Mission and History:

Mission:
LoveHKFilm.com is a website dedicated to reviewing Hong Kong and China movies. The site's reviews are intended to have an informed perspective and sense of humor on Hong Kong and its unique entertainment culture. That means we make a lot of jokes while still taking the films and Hong Kong's history and culture seriously. Really, it can be done!
History:
LoveHKFilm.com was launched in March 2002. Site webmaster Ross Chen acquired a love for Hong Kong film during his college years, and created LoveHKFilm.com to take up web space with yet another Hong Kong Cinema website.

The website was originally based in California and reviewed films via DVDs and occasional screenings, but in 2005, the webmaster accepted an overseas job offer and moved to Hong Kong. Afterwards, the site offered more timely reviews of first-run Hong Kong films.

At one point, the site and its writers actively reviewed other Asian films but after 2013, it returned to focusing primarily on Hong Kong and China film with only occasional reviews of films from other territories.

LoveHKFilm.com was once updated three time per week, but updates began appearing weekly and then bi-weekly, before settling on the current unimpressive frequency of "when we feel like it". Regardless, the site continues to review at least fifty or more films per year.

In 2008, the site's yearly "Best of" feature, the LoveHKFilm Awards, expanded from a list written by a single person to a jury of individuals, including the webmaster and a few noted Hong Kong film fans and writers.

Though LoveHKFilm.com has seen a number of contributors over the years, the current team is limited to the site webmaster, an associate editor and the occasional guest writer. One of the site's previous film reviewers, Kevin Ma, went on to become a reporter for trade publication Film Business Asia, making him the only regular contributor to LoveHKFilm.com to "make it" in the industry.

In December 2014, site webmaster Ross Chen was accepted into the Hong Kong Film Critics Society. That means it took nearly thirteen years for the site to be recognized as a helpful online resource, and not the collected ramblings of some dude that most probably assume has too much time on his hands.

As of January 2016, LoveHKFilm.com still does not have a Wikipedia page.
---
On January 13th, 2005, the webmaster made a live television appearance on Screen Savers, a daily program airing on the now defunct TechTV/G4 network, to talk about Asian Cinema. What this accomplishment actually means is debatable, plus it's been so many years that the video now only exists as a .mov file on the webmaster's hard drive, but it happened. An extra interview with the Webmaster is located here.

In 2015, the webmaster was interviewed about Hong Kong Cinema for the Young Post, an affiliate of the South China Morning Post targeted to students in Hong Kong.

Currently, the webmaster serves as consultant and writer for the Udine Far East Film Festival, one of the world's premier Asian film festivals and a longtime friend to Hong Kong Cinema.

The webmaster writes an occasional column for Hong Kong luxury magazine Baccarat, which covers much more high-end subjects, like fashion, branded store openings and swank lifestyle products. Nonetheless, his writings exist there.

This website and its webmaster have also been cited in the South China Morning Post, the Singapore Straits Times, Time Out, Film Comment and in various other publications and film festival catalogues, which are both too numerous and too obscure to mention.

Most notably, at least to the webmaster, the website receives occasional mention on the website of David Bordwell, a film historian and theorist whose writings were cited by the webmaster when he wrote student papers back in the 1990s.
---
Content:

Words:
You may notice the occasional snarky comment on this web site. If so, please do not assume that the writer is an evil, hateful being. No offense is intended by the words on this site, even if Wong Jing, Patrick Kong or Michael Wong are the targets. Please do not read into any pronoun use. No one here is a multiple personality, or admits to being one anyway.
Images:
All images on this site were obtained in a manner befitting their use on the Internet. Pictures taken from studio sites are attributed whenever possible, and video captures are credited to the contributing distributor. As this is a site promoting and celebrating Hong Kong and Asian cinema, we hope that the original parties find no malice in the usage of their intellectual property.

In the event of any concerns, please contact the webmaster here.
Rights:
Written content on this site is the sole property of its respective writer and has been licensed to LoveHKFilm.com to host in perpetuity.
Usage:
Despite the fact that the site's content can easily be cut and pasted using your OS of choice, that does not mean you are allowed to use it to populate your own websites, ebay auctions and/or webshrine to Cheung Tat-Ming.

Enquiries, including questions about republishing site content, may be directed to the Webmaster here.

If you choose not to go through the above socially accepted channels to request usage of LoveHKFilm.com's content, you will not be fined or go to jail...yet. However, taking our content without permission and using it as you please will forever brand you as an insensitive, ungrateful human being, and the angels will weep for you.
Acknowledgements:

Many must be thanked for inspiring the webmaster and the website:

Yeung Yuen-Man and Chan Chit-Yu, because they make everything possible.

Lee Wong, for loving the cinema.

Barry Long, co-author of Hong Kong Babylon, deserves either the credit or the blame for fostering webmaster Ross Chen's love of Hong Kong Cinema.

Sanney Leung, of HK Entertainment News in Review, has provided much insight and support in getting this site off the ground.
Peter Chan Ho-Sun, who was charitable with his time and opinions, and helped further the webmaster's experience with Hong Kong film.
Stephanie Badii, for believing.

Joseph Fierro, of the former Hong Kong Cinema Website, laid the groundwork for any HK Cinema website currently in existence.

Ryan Law, webmaster of the Hong Kong Movie Database at www.hkmdb.com. His web site is the definitive web resource to Hong Kong movies. We bow to his continuing work and dedication.

Ken Akamatsu, for inspiring the site name and for providing much fan service in his hilarious and quite perverted manga Love Hina.

Sammi Cheng, for being Sammi Cheng.
And, everyone on the Sponsor Page.

Special thanks to the following people:
Linus Chen, Becky Bernhardt, Kyle Cornelius, Diep Derstine, Rick Diloreto, Frank Djeng, Todd Jones, Charlie Lai, David Mitchell, Karen and Leo Pesce, Kozo Shimasaki, Tom Schirmer, Patty and Sam Ting, Louie Tran, James and Sofia Trejo, Midori and Hiroki Wada, Marc Walkow.

The following books were extremely helpful:
- David Bordwell, Planet Hong Kong: Popular Cinema and the Art of Entertainment (Harvard University Press, 2000)
- Frederic Dannen and Barry Long, Hong Kong Babylon: An Insider's Guide to the Hollywood of the East (Hyperion/Miramax 1997)
- Stefan Hammond and Mike Wilkins, Sex and Zen & A Bullet to the Head (New York: Fireside: 1996)
- Lisa Oldham Stokes and Michael Hoover, City on Fire: Hong Kong Cinema (London: Verso, 1999)
- Stephen Teo, Hong Kong Cinema: The Extra Dimensions (London: British film Institute, 1997)
- Esther C.M. Yau, At Full Speed: Hong Kong Cinema in a Borderless World (University of Minneapolis Press, 2001)
---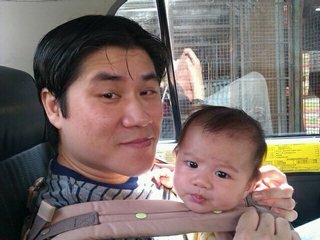 Reportedly, this is a photo of the Webmaster and
his greatest fan. Sources cannot confirm which is which.
Webmaster Ross Chen was born in 1973.

Long a fan of movies, Chen's first actual Hong Kong Cinema experience came in 1987 with a little movie called A Better Tomorrow. However, it wasn't until he attended New York University in 1993 that he began to consume Hong Kong Cinema in mass quantities.

Ross Chen graduated from NYUís Tisch School of Arts in 1995 with a Bachelorís Degree in Film. Afterwards he worked in various positions, including video store clerk, product buyer, employee manager, network administrator, and aimless free agent.

While jobless in 2002, Chen founded LoveHKFilm.com to inspire him to continue watching and writing about Hong Kong film. When reviewing film, he goes by the pseudonym Kozo.

In 2005, Chen was hired by YesAsia.com to be a Senior English Editor. In 2006 he was promoted to Managing Editor, whereupon he joined the ranks of the pointy-haired bosses and started firing people. Later, Chen was promoted to Senior Managing Editor, whereupon he could order people to fire other people.

Despite his employment by the leading online Asian entertainment retailer, Chen has pledged to maintain an impartial stance when reviewing Hong Kong Cinema, and continues to be as mean as he possibly can in his writing.

For fun, Chen enjoys writing, reading, watching film, spending time with his family and generally maintaining a low profile. He's also an avid basketball fan, though the sadness of his local team, the Golden State Warriors, has driven him into a fan coma. Until one day he awoke from that coma and saw that the Golden State Warriors became one of the greatest NBA basketball teams OF ALL TIME.

Chen currently resides in Hong Kong, where he tries to stay out of trouble, though his degree of success is debatable. His resume in stored here on the site. Drop him a line by emailing him here.
---
Webmaster
Ross Chen

Associate Editor
Sanney Leung

Reviewers
Ross Chen
Kevin Ma
Lee Wong

Site Logos designed by
Computer Angel
iMat