History:

Purpose:
LoveHKFilm.com was created in March 2002 with the sole purpose of taking up web space with yet another Hong Kong Cinema website.
The original plan was to mix informed critical analysis with an obvious wink towards Hong Kong's unique media-driven culture. Perhaps we failed, but so far no one with any level of objectivity has been able to let us know.
Despite our obvious winking being mistaken for outright negativity, the site has continued to review new Hong Kong Cinema since, and will continue to do so until either the site or the Webmaster dies. Right now, the money is on the latter happening first.
History:
It all began in 1993, when a kid going to New York University discovered: "Hey, this HK Cinema stuff is pretty damn neat." He proceeded to watch every Jackie Chan and John Woo movie he could get his hands on. Then he watched every Wong Kar-Wai movie. Then he watched every Stephen Chow movie. Then he watched every UFO movie. He attempted to watch every Wong Jing movie, but he grew tired and destroyed his television.

This website is the culmination of that kid's devotion to watching grainy, letterboxed, subtitled movies on a 13-inch television while attempting to get out of college. He did get out of college, but his adolescence perhaps never ended.
Currently, this website is still online. If it ever goes offline we predict mass hysteria and a thumbs up from Wong Jing, who still owes us a television.
---
Besides taking up webspace, LoveHKFilm.com has accomplished a few minor things. These are those things.

• LoveHKFilm.com opened 2005 as the number one Asian film site on Alexa.com, a popular traffic ranking service for webmasters and interested parties all over the World Wide Web. What this means to the average joe: probably nothing. Still, it sounds pretty neat. After a good sixteen month reign, we finally fell to #2 in April of 2006. Sometime towards the end of 2006, we ended up back at #1. Then, in early 2009, we fell back to #2. Life is tough sometimes.
• For the six day period from January 10th to January 15th in 2005, LoveHKFilm.com donated all commissions from its YesAsia.com support links to aid the Tsunami Relief effort in Asia and East Africa. A total of $353.84 was donated on January 16th, 2005 to the Red Cross International Response Fund.
• On January 13th, 2005, the Webmaster made a live television appearance on Screen Savers, a daily program airing on the TechTV/G4 network, to talk about Asian Cinema in 2005. What this accomplishment actually means is debatable, but it happened. For proof, go here. An extra interview with the Webmaster is located here.
• For the six day period from September 13th to September 19th in 2005, LoveHKFilm.com donated all commissions from its YesAsia.com support links to aid those on the U.S. Gulf Coast affected by Hurricane Katrina. A total of $217.73 was donated on September 19th, 2005 to the Red Cross Hurricane Katrina Relief Fund.
• For the six day period from June 2nd to September 7th, 2006, LoveHKFilm.com donated all commissions from its YesAsia.com support links to aid those affected by the Indonesia Earthquake. A total of $178.62 was earned through the links. We eventually rounded up and donated a full $200.00 to Red Cross Relief Efforts in the region.
• For the eight day period from May 19th to May 27th, 2008, LoveHKFilm.com donated all commissions from its YesAsia.com links to aid those affected by the Sichuan Earthquake. Indonesia Earthquake. A total of $153.95 was earned through the links. True to form, we rounded up to $200.00 and donated it to the Red Cross China Earthquake Relief Fund.

---
Content:

Words:
You may notice the occasional snarky comment on this web site. If so, please do not assume that the writer is an evil, hateful being. No offense is intended by the words on this site, even if Wong Jing is the target. Please do not read into any pronoun use. No one here is a multiple personality, or admits to being one anyway.
Images:
All images on this site were obtained in a manner befitting their use on the Internet. Pictures taken from studio sites are attributed whenever possible, and video captures are credited to the contributing distributor. As this is a site promoting and celebrating Hong Kong and Asian cinema, we hope that the original parties find no malice in the usage of their intellectual property.
In the event of any concerns, please contact the webmaster here.

Rights:
Written content on this site is the sole property of its respective writer and has been licensed to LoveHKFilm.com to host in perpetuity.

Usage:
Despite the fact that the site's content can easily be cut and pasted using your OS of choice, that does not mean you are allowed to use it to populate your own websites, ebay auctions and/or webshrine to Cheung Tat-Ming.
Enquiries, including questions about republishing site content, may be directed to the Webmaster here.
If you choose not to go through the above socially accepted channels to request usage of LoveHKFilm.com's content, you will not be fined or go to jail...yet. However, taking our content without permission and using it as you please will forever brand you as an insensitive, ungrateful human being, and the angels will weep for you.
By the way, cutting and pasting sentences out of our reviews then reassembling them as your own does not count as original work on your part. Your mother would be more proud of you if you actually worked for a living.

Acknowledgements:

Many must be thanked for their contribution to making this site possible:

Lee Wong, for loving the cinema.

Barry Long, co-author of Hong Kong Babylon, deserves either the credit or the blame for fostering webmaster Ross Chen's love of Hong Kong Cinema.

Sanney Leung, of HK Entertainment News in Review, has provided much insight and support in getting this site off the ground.
Peter Chan Ho-Sun, who was charitable with his time and opinions, and helped further the webmaster's experience with Hong Kong film.
Stephanie Badii, for believing.

Joseph Fierro, of the former Hong Kong Cinema Website, laid the groundwork for any HK Cinema website currently in existence.

Ryan Law, webmaster of the Hong Kong Movie Database at www.hkmdb.com. His web site is the definitive web resource to Hong Kong movies. We bow to his continuing work and dedication.

Ken Akamatsu, for inspiring the site name and for providing much fan service in his hilarious and quite perverted manga Love Hina.

Sammi Cheng, for being Sammi Cheng.
And, everyone on the Sponsor Page.

Special thanks to the following people:
Linus Chen, Becky Bernhardt, Kyle Cornelius, Diep Derstine, Rick Diloreto, Frank Djeng, Todd Jones, Charlie Lai, David Mitchell, Karen and Leo Pesce, Kozo Shimasaki, Tom Schirmer, Patty and Sam Ting, Louie Tran, James and Sofia Trejo, Midori and Hiroki Wada, Marc Walkow.

The following books were extremely helpful:
- David Bordwell, Planet Hong Kong: Popular Cinema and the Art of Entertainment (Harvard University Press, 2000)
- Frederic Dannen and Barry Long, Hong Kong Babylon: An Insider's Guide to the Hollywood of the East (Hyperion/Miramax 1997)
- Stefan Hammond and Mike Wilkins, Sex and Zen & A Bullet to the Head (New York: Fireside: 1996)
- Lisa Oldham Stokes and Michael Hoover, City on Fire: Hong Kong Cinema (London: Verso, 1999)
- Stephen Teo, Hong Kong Cinema: The Extra Dimensions (London: British film Institute, 1997)
- Esther C.M. Yau, At Full Speed: Hong Kong Cinema in a Borderless World (University of Minneapolis Press, 2001)
---
About the Webmaster:

Webmaster Ross Chen was born in 1973.
Long a fan of movies, Chen's first actual Hong Kong Cinema experience came in 1987 with a little movie called A Better Tomorrow. However, it wasn't until he attended New York University in 1993 that he began to consume Hong Kong Cinema in mass quantities. He continues to watch movies from all over the world, though he reserves a special place in his heart for Hong Kong Cinema.
Ross Chen has been employed at various positions, including video store clerk, product buyer, employee manager, network administrator, and aimless free agent. None of those jobs was particularly fulfilling, but he retains a certain degree of interest in all of them.
For fun, Chen enjoys writing, reading, watching film, and generally maintaining a low profile. He's also an avid basketball fan, though the sadness of his local team, the Golden State Warriors, has driven him into a fan coma.
In 2002, Chen founded LoveHKFilm.com to inspire him to continue watching and writing about Hong Kong film. When reviewing film, he goes by the pseudonym Kozo.
In 2005, Chen was hired by YesAsia.com to be a Senior English Editor. Despite his employment by the leading online Asian Entertainment retailer, he pledges to maintain an impartial stance when reviewing Hong Kong Cinema. In other words, he will continue to be as mean as he possibly can. In 2006 he was promoted to Managing Editor, whereupon he joined the ranks of the pointy-haired bosses and started firing people.
Chen currently resides in Hong Kong, where he tries to stay out of trouble, though his degree of success is debatable. His resume in stored here on the site. Drop him a line by emailing him here.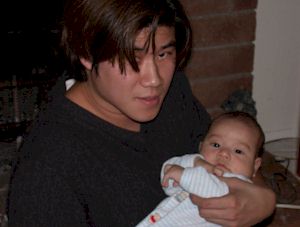 Reportedly, this is a photo of the Webmaster and
his greatest fan. Sources cannot confirm which is which.
---
Webmaster
Ross Chen

Associate Editor
Sanney Leung

Reviewers
Ross Chen
Kevin Ma
Lee Wong

Site Logos designed by
Computer Angel
iMat