| review | awards | availability |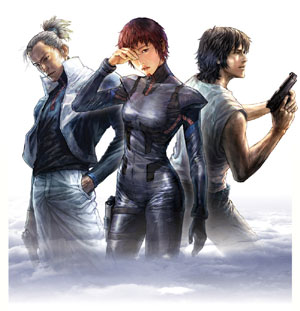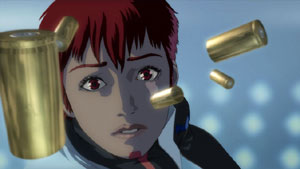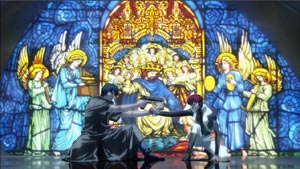 Availability:

DVD (Korea)
Region 3 NTSC
Bitwin
2-Disc Set
16 x 9 Anamorphic Widescreen
Korean Language Track
Dolby Digital 5.1, DTS
Removable English and Korean Subtitles
Audio Commentaries, Music Video, Theatrical Trailer, Making Of Featurette, Director's Note, Gallery, and Crew Information
*Also Available on Blu-ray Disc
Awards:
• 2004 Gerardmer Film Festival
Winner - Grand Prize in Animation (Kim Moon-Sang)
• 2005 Fantasporto Film Festival
Nomination - International Fantasy Film Award (Kim Moon-Sang)

Review by Calvin McMillin:
As the biggest budgeted animated film in Korean cinema history, Wonderful Days bears the burden of living up to a tremendous amount of hype. Whether the film is worthy of such lavish expense is difficult to say, but evaluated on its own merits, Wonderful Days delivers an entertaining and sometimes moving film experience.
The movie's premise should be vaguely familiar to any fan of sci-fi: more than a hundred years in the future, the human race has screwed up the environment to the point that the earth is shielded from the sun, and the blue sky has become little more than a myth. The ruling class lives comfortably in the citadel-like Ecoban, and to protect their kingdom, they condemn the poor to the ghost town of Marr and other nearby wastelands, forcing the underclass to work for them to fuel their living city.
While cruising Marr in her snazzy ride, a female law enforcement officer named Jay bumps into Shua, a childhood friend she had presumed dead. But in fact, Shua has lived in exile, joining the rebellion against Ecoban. His mission is to infiltrate the enemy's inner sanctum and shut down the system. After some initial resistance, Jay joins forces with Shua, much to the dismay of Ecoban's villainous head of security, Simon. The three share a private history that is revealed over the course of the narrative, a history that comes to a thrilling end during their final confrontation at Ecoban. Ultimately, it will take wits, determination, and a sacrifice from the unlikeliest sources to bring back the clear blue sky.
From the get-go, Wonderful Days boasts amazing visuals, mixing computer graphics and traditional cel animation with "multi-mation" and miniatures. The end result is something that is alternatively sleek and gritty, depending on the occasion. However, the film is not soulless eye candy; amazingly, the animators are able to evoke real emotions from their 2-D creations, giving their characters an emotional depth that - along with the film's music and cinematic shorthand - give Wonderful Days, a bombastic, near operatic tone.
But as mentioned before, the film isn't wholly original. In fact, the entire premise of the movie was done more than a decade ago in Highlander 2. And certainly, the underlying plot - an oppressed underclass fighting against a dictatorial elite - isn't anything new either. The film's rebellion versus empire vibe should raise eyebrows among the Star Wars faithful. In addition, the assault on the Ecoban citadel should evoke some nostalgia for the aerial dogfights of A New Hope.
Although some would cry "rip-off," it's probably more instructive to view Wonderful Days as a greatest hits package of sci-fi tropes. It's an old story made new, which in itself, is sci-fi at its best. While certainly not the greatest anime I've ever seen, Wonderful Days is a landmark film in Korean animation history and one that shouldn't be missed. (Calvin McMillin, 2005)
---